Lone Star College-CyFair's Staff Excellence Award winners – Susan Martin, Sarah Zapata, Leah Stark, Rene Ruiz and part-time staff member Jorge Daniel Guevara Villarreal – are recognized this spring as being a positive force on campus.
The comments in the nomination submissions reinforce the everyday teamwork they demonstrate as well as the impact these employees have not only on campus, but on the community.
Zapata champions ways to make services equitable and available to all employees, while also stepping up to be a leader, mentor and volunteer at LSC-CyFair and Cy-Fair ISD.
She began as a Specialist III in Admissions at LSC-CyFair in 2013 and then became a program manager in 2016 in the Teaching and Learning Center. She also serves as the Professional and Support Staff Association president.
"The thing I enjoy most about my job is the pride that comes from not only making a difference now, but laying the foundation for future students," Zapata said. "Hearing your 5 year old say 'I want to go to school where mommy works when I'm older' drives you toward creating the best future for all our students and I am honored to be part of that."
With a high level of professionalism, Martin is known for seeking input, sharing knowledge and follow up to provide excellent customer service. In addition, she works collaboratively to coordinate transfer fairs and provide transfer trips to local universities.
She was an advisor at LSC-Tomball in 2012 before joining LSC-Cypress Center in 2013 as an inaugural staff member serving as an Advisor II in Student Services. Martin has also served as interim manager and interim director for the department during several transition periods.
"I have enjoyed leading transfer programming efforts, developing partnerships with various university representatives, campus faculty and administration, as well as supporting the center's team to provide students the best possible admissions, advising, registration, and academic support experiences," said Martin, who is passionate about her work with the new Family Study Nights implemented in Fall 2018.
Knowledgeable in all aspects of the college, Stark is kind and generous with her time and in sharing her ideas across the campus. In addition to being the college's Heart Walk coordinator, she's been instrumental in involving, in particular, the college and county joint-use library in key activities and fostering community outreach through the Learning, Inspiration, Friendship, and Enrichment (L.I.F.E.) and Kids Corner programs.
Stark joined the LSC-CyFair in 2014 as the administrative assistant to Dr. Deana Sheppard, then vice president of centers (LSC-Cypress Center and LSC-Fairbanks Center) and now, since 2016, vice president of instruction.
"I love getting to work with coworkers in all the different departments and disciplines," said Stark.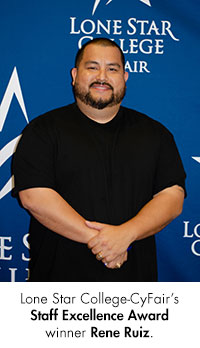 Taking pride in all of his work in the Veteran Resource Center, Ruiz builds many community partnerships that assist students with various external needs. As a veteran himself and representative of Wounded Warrior Project, he inspires students to do great every day.
Ruiz joined the LSC-CyFair Veteran Affairs Department as a work-study student in 2010. In 2012 he became a part-time specialist, was promoted to full-time in 2015 and has been a full-time advisor now since 2016.
"I enjoy helping other veterans and getting them on the path to success with the least amount of obstacles," he said.
Guevara keeps up with department changes, takes initiative and creates a sense of welcoming energy as he works closely with students with an attitude that allows them to know they are important and that their goals are a priority and can be reached.
Guevara started at LSC-Fairbanks Center in 2015, first as a work-study student and then a specialist in the Learning Commons. In 2017, he became a part-time advisor for the Continuing Education Department and Career and Technical Education at the Barker Cypress campus.
"One of the many things I enjoy about my job is the interaction with the students and helping them achieve their goals," said Guevara, who plans to earn an associate degree and get a certification in business management and bilingual interpreting.
These dedicated staff members were honored at college and system events this spring.
Late Start spring semester classes at LSC-CyFair are available. For information go to LoneStar.edu/late-start.
Support the Cypress News Review:
1. Bookmark us!
2. Become a monthly patron for as little as $1 via Patreon (https://www.patreon.com/CypressNewsReview).
3. Like our Facebook (https://www.facebook.com/CypressNewsReview), follow our Twitter (https://twitter.com/CypressNewsRev), and subscribe to our YouTube channel (https://www.youtube.com/channel/UCKIuHUwXbt_R673iszcLz7g).
We're relatively new to the scene, so our numbers might look small, but they're growing exponentially thanks to your liking and sharing our content. Cypress is our home, and has gone for far too long without a dedicated news source, and we aim to fill that gap.